Suburban Scoopers
Chicago Pet Waste Removal
Suburban Scoopers, servicing many of Chicago's suburbs. Locally owned and operated.
DOOING THE 'BURBS FOR YOU WITH POOPULATION CONTROL FOR YOUR YARD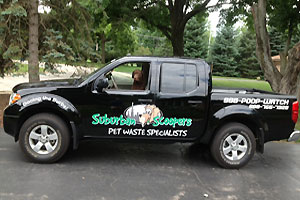 It is undeniable. The family dog brings loads of joy and pleasure to your life. However, they can leave a HUGE* mess in your yard. Your time is too valuable to spend with the nasty hassle of cleaning up after your family's best friend.  "Doo" what's right for your entire family, they deserve the cleanest and safest environment possible. We have the solution to your dog waste pollution! If you have small children, entertain in your garden or just insist on a dog play area free of poop then call Suburban Scoopers today. *Depending on the size of your dog
Pet Waste is Unsanitary
Can transmit diseases and bacteria to your family and pets
Destroys your lawn
Pollutes our ground water and waterways
You love your dog, you hate the waste. You keep the love, we pick-up where your pet's left off so you and your family can enjoy your yard.
What We Doo:
At whatever frequency you desire (Residential Pricing) America's Pet Waste Specialist will come to your home and make your yard pet waste free.
• Weekly
• Twice a week
• Every other week
• Special occasion
• Our prices include waste removal from your property
No Contracts!
Pay for the service you desire and if you feel you no longer need the service, cancel hassle free with no fees. We're confident once you try Suburban Scoopers you will never go back to poopuluted yards.
Our Code of Conduct
Suburban Scoopers will provide the highest level of customer service and professionalism in order to earn your business and trust. We recognize the need for you to feel confident and safe with our duties (dooties). Our uniformed technicians are insured and bonded for your safety.
Manager of a homeowners association or apartment complex, please check out our (Commercial Services).